Ironstone china was patented in England in 1813 by Charles James Mason.  This began the long illustrious history of Mason's Ironstone China.  A component used in the production of this china is ironstone, a sedimentary rock.  Mason's may have begun the production of this affordable heavy-duty china, but ironstone soon became a staple of numerous factories across England.
One of my favorite antique English ironstone china patterns from Mason's is "Strathmore Blue."  I have over several years put together a collection of this pattern for a client in Raleigh, North Carolina.   This pattern, circa 1900 is a multicolored, floral, blue basket design with hints of rosy pinks,vibrant greens, and warm yellows.  This pattern mixes delightfully with several of her other china patterns and the range of colors is a palette that we used in the color and design concept for her entire home.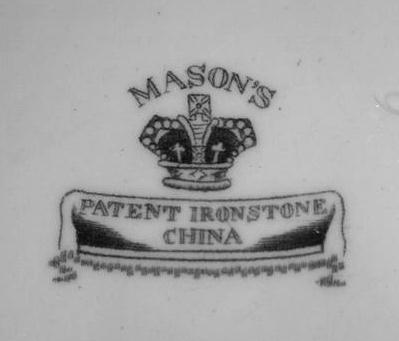 You can find some great historical information about Mason's and other manufacturers on Janice Paull's website.  She has amassed a wonderful collection of information including a resource on factory marks.  If you are interested in Mason's Ironstone China, you don't want to miss her site!
In the coming days here on the blog, I will be showing you numerous tabletop looks using the "Strathmore Blue" pattern.  Keep an eye out for them.  You'll be amazed at the different looks you can achieve with this pattern!