The highly distinctive thistle shapes of Thistle by Edinburgh Crystal are embellished with a complex geometric pattern and delicate engravings .  I consider this pattern to be among my favorites!
This classic design, which has remained largely unchanged for more than a century, displays the exceptional skill and quality for which Edinburgh Crystal was renowned. 
In my new book, The Collected Tabletop, I used the Thistle pattern on my "Scottish Gamekeeper's Dinner" table.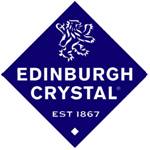 The Edinburgh Crystal Company was founded in 1867 and was in business until 2006.  At that time the brand was purchased by Waterford Wedgwood.
The thistle pattern was made in a variety of pieces, including wine,champagne, brandy and whisky glasses, and wine and whisky decanters.  Although no longer manufactured, many pieces are available through Replacements!
Visit my website to order your copy of The Collected Tabletop today!